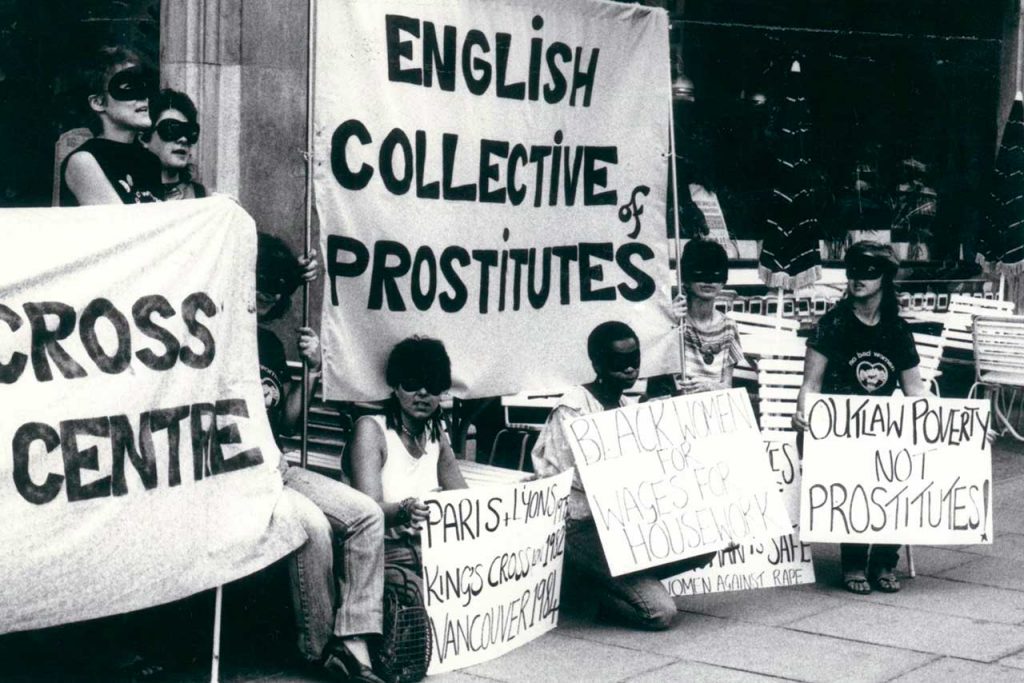 Sex work is legal in the UK. But whilst the exchange of money between two adults for consensual sex is allowed, lots of activities surrounding sex work remain illegal. Laws on 'brothel-keeping' and 'loitering and soliciting' in particular have made sex workers' lives significantly more difficult. This legislation prevents sex workers from working together from premises, and bans soliciting on the street. UK governments have repeatedly refused to change the law, arguing that it protects women from exploitation, but is this grounded in reality? The clear answer is no. 
In practice, women are left vulnerable to violence, at risk of arrest and less able to change career if they want to. The ban on sex workers working together, from their own flat or property, means they are left to choose between their safety and breaking the law, putting them at risk of raids and arrest by the police. 
Sex workers' fears of punitive treatment are not unfounded; from November 2018 to October 2019 there were 25 reported raids on premises, seven sex workers were arrested, two for immigration offences. The Proceeds of Crime Act (passed in 2002) gave the courts the power to freeze bank accounts and seize the savings of sex workers arrested during raids, a proportion of which police and the CPS keep. This has fuelled raids and arrests on sex workers' premises. 
We know from experience that these raids are often not carried out with respect or care for the women working inside. During mass raids in Soho in 2013, police came in with dogs in riot gear, handcuffed women on the floor and threatened to tell their families what they did for a living. When sex workers approach the police to report an attack from a client, they are frequently told it is 'part of the job,' or worse, arrested themselves for soliciting.  
Fines and criminal convictions are handed out to women who are trying to earn a wage and keep themselves safe whilst doing so. This generates a vicious cycle for women who do want to find an alternative source of income, as a record of solicitation can make finding other work incredibly difficult. The system is completely broken; it puts women in danger, persecutes survivors and seizes sex workers' earnings whilst the police and the courts profit in the process. 
The good news is that sex workers themselves have provided the modelling for a safer and fairer system. What they want is total decriminalisation, on the street and in premises, which would see the removal of all criminal laws that are specific to sex workers. This includes no criminalisation of clients, which forces sex workers underground and into more dangerous situations. Sex workers want an end to police brutality, to the corruption and racism they face and prosecution of police who break the law. Sex workers are demanding standard employment rights: the right to organise to improve working conditions, to a pension and to trade union membership. We know what this looks like because it has already been done. In 2003 New Zealand opted to decriminalise along these lines, and 90% of sex workers living there say they now have more employment and safety rights. 
The coronavirus pandemic meant that sex workers, the majority of whom are mothers and already living in relative poverty, lost their incomes overnight. The government has so far failed to provide any direct financial support to the community and continues to refuse to alter legislation to protect sex workers and allow them employment rights. So what can you do to help? Educate yourself on the issues faced by sex workers, follow the ECP and SWARM on social media, and share their resources with your network. Sign the ECP's petition calling for decriminalisation and write to your MP to demand support for the community during coronavirus. 
Ultimately, sex workers want to be allowed to make their own choices about how and with who they work, where they live and how they spend their money, and they want to remain free from violence and police harassment whilst they do so. These are basic human rights. As is the choice to have consenting sex with another adult for whatever reason you choose.  
Petition to decriminalise:
#makeallwomensafe campaign:
Twitter:
@ProstitutesColl
@SexWorkHive
Instagram:
@ecp_org
@swarmhive
Sex work – is decriminalisation the answer?