English Collective of Prostitutes International, Latest News, Media coverage Criminalisation of clients, Ireland, Migrant sex workers, Raids arrests and prosecutions
'Convictions for sex work further limit people's ability to exit the industry and find alternative means of employment,' says sex worker
Maya Oppenheim Women's Correspondent @mayaoppenheim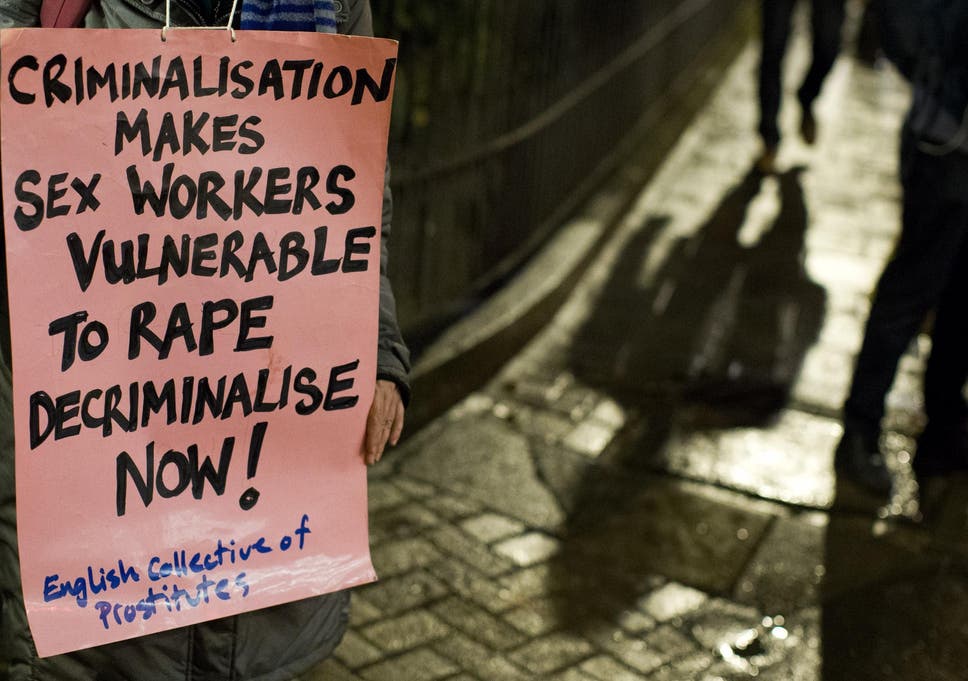 The jailing of two migrant sex workers in Ireland has been condemned by others in the industry as "horrible" and "completely unjust".
Adrina Podaru, 25, and Ana Tomascu, 20, were living in Newbridge, Kildare, when the property was raided last November.
The women, both from Romania, were charged with keeping a brothel and were jailed for nine months after a hearing at Naas District Court.
Both women admitted offering sexual services for money. Ms Podaru is pregnant and faaces the prospect of giving birth in prison.
The court heard there were no clients present at the time of the raid and that no significant money was found at the scene. The judge rejected the women's offer to instead donate a sum of money to charity, saying "they weren't forced into this position".
The Sex Worker Advocacy and Resistance Movement (SWARM) and the Sex Workers' Alliance Ireland (SWAI) – two sex worker-led organisations who announced they will be fundraising to support the two young women – said they were sharing a flat for safety.
The groups say the arrests demonstrate Ireland's laws, based around the "Nordic Model", fail to protect those selling sex. Supporters claim it is a type of sex work law which only targets men who purchase sex and does not criminalise sex workers themselves.
But sex worker organisations have long argued the Nordic model does, in fact, criminalise those who sell sex – saying the "conviction and imprisonment of Adrina and Ana now brutally demonstrates that".
Christina, a sex worker involved in SWARM, said: "Imprisoning these young women for something which should not be a crime is horrible and absurd – and it is made worse because advocates for the Nordic model are constantly telling us that this law is about 'protecting' women who sell sex. How does it protect us to put us in jail?"
Lily, another sex worker from the campaigning group, said: "It is completely unjust to imprison sex workers for trying to survive. Criminal convictions for sex work further limit people's ability to exit the industry and find alternative means of employment – they trap people in prostitution.
"Criminalisation of sex work, including the Nordic model, also disproportionately target migrant workers, and we see that in this case too. We want feminist advocates of the Nordic model to engage with the reality that this legislation harms people who sell sex.
"When women are arrested, prosecuted and jailed, they are at risk of becoming destitute. We want to highlight the injustice that the women are experiencing as a result of Ireland's Nordic model, and to try to support them as best we can. Sex workers need to support other sex workers, as the Irish state is just interested in persecuting them."
Ireland adopted the "Nordic Model" in March 2017, criminalising the purchase of sex, not the selling of sex, and doubling the penalties for running a brothel. Supporters argue it protects sex workers while reducing the demand for their services by targeting customers but critics say it makes sex work more dangerous as it forces women to work alone or on the street due to fears of being caught in a brothel.
Only one person has been convicted of paying for sex since the law change – a 65-year-old man who was fined €200 in January.
Statistics from UglyMugs – an app where sex workers can confidentially report incidents of abuse and crime – state the number of such incidents being reported has greatly increased since the law was introduced.
They say crime against sex workers has increased 90 per cent, while violent crime specifically has increased 92 per cent.
Kate McGrew, director of the Sex Workers' Alliance Ireland, said: "At SWAI we frequently see sex workers who have been prosecuted for working together – despite feminist claims that the law in Ireland decriminalises people who sell sex. Ana and Adrina's case is particularly egregious, as they have been given a prison sentence. These prosecutions tell everyone selling sex in Ireland that they must do so alone, or risk jail."
She said it was important to note the harm of cases like this spreads far beyond the women directly criminalised. The Nordic model is driving violence and criminalisation for sex workers in Ireland, she added.
In the UK, it is not illegal for individuals to buy or sell sex from each other, but soliciting and sex workers banding together as a group are illegal.
There have been widespread calls for prostitution to be decriminalised in the UK – with the English Collective of Prostitutes recently launching a campaign called "Make All Women Safe" for the decriminalisation of sex work.
Their petition demanding a change in the law has just passed the 10,000 signature mark. The campaign group argues sex workers often have to choose between keeping safe and possible arrest, or avoiding a criminal record and putting themselves in danger.
Niki Adams, a spokesperson for the organisation said this was just the latest in many prosecutions of women for working together for safety.
"We are glad these two women are getting support because in Britain we've had to intervene in 100s of cases to try and stop such prosecutions," she said.
"One woman was given a three-year prison sentence similarly for brothel-keeping. Migrant women, like these two young women, are particularly targeted by police. Raiding, arresting and evicting women for working together puts us at risk of violence as it is much safer to work inside with others than on the street."
https://www.independent.co.uk/news/world/europe/ireland-migrant-sex-workers-jailed-prison-newbridge-police-romania-naas-a8962291.html?