Exclusive: 'I'm more tired at home but we can get the food we want and decent shoes for the kids,' says teacher who does sex work
Maya Oppenheim Women's Correspondent @mayaoppenheim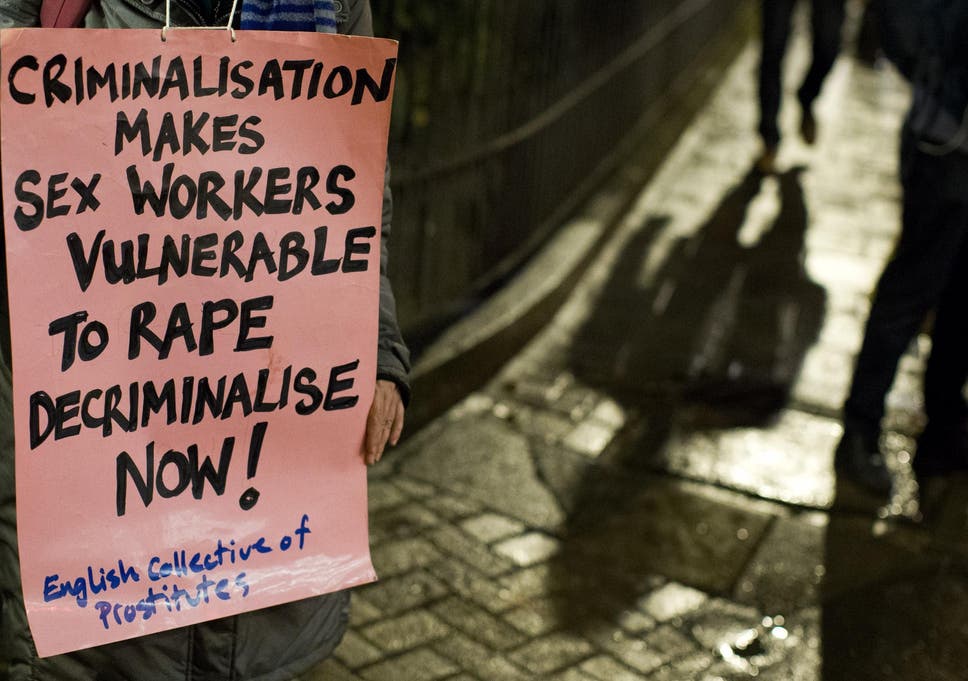 Increasing numbers of public sector workers are being forced to turn to sex workdue to austerity measures and welfare cuts, campaigners have warned.
A leading campaigning group, which supports the decriminalisation of prostitution, says more women in public sector roles are doing sex work to top up their income due to employers making no allowances for the fact they have children.
The warning comes as the organisation, the English Collective of Prostitutes (ECP), releases a new report comparing sex work with other jobs commonly done by women.
The report found sex workers earn significantly more per hour than women working in the other jobs – including those in public sector positions such as nurses and midwives.
Women cited higher wages as their primary reason for entering the sex industry.
"Because of austerity there is an increase in prostitution in many sectors including public sector workers. It is mostly women," a spokesperson for the ECP said.
It is difficult to collate official figures on the number of sex workers because many are concerned they will face negative repercussions by becoming visible.
However, a 2015 report by Leeds University and funded by the Wellcome Trust found more than 70 per cent of UK sex workers had previously worked in healthcare, education or for charities.
A teacher, who chose to remain anonymous, told The Independent she turned to sex work due to rising living costs and low wages.
She said she did three days of supply teaching a week but her wages did not reflect the huge amount of extra work she was expected to do outside of school hours. She said she had two children to support and a partner who did not earn a great deal.
"Everything, especially food and bills have shot up," she said. "It has got terrible in the last few years.  Our rent is crazy as we are in London."
"I am really the main earner. So now, one evening a week I work in a flat with another girl. My partner hates it but it means we're not worried all the time about money."
She said she felt safe because she is never on her own and the women look out for each other.
"We keep our fingers crossed that we don't get a visit from the police. So far I have been able to earn enough to just about cover the rent – which is a big thing, so I'm not running around worrying about money all the time.
"Of course, I'm more tired at home but we can get the food we want and decent shoes for the kids. In a way, I feel more normal now.
"We are all mostly in second-hand clothes but as children get older they need new stuff and I'm sure it will get more expensive. I'm sure things will change when the kids are older – I hope they do.  But I have to say I'm not holding my breath about how long I shall have to keep doing the hooking job."
A nurse, who chose to remain anonymous, said she had also turned to sex work to supplement her income.
"I'm a nurse in outpatients," she said. "It is not quite full time. We are supposed to be caring angels but the pay is bad. I take home around £250 a week but then I have to pay rent, feed and clothe myself, have a bit of a social life and I would even like to take a holiday. For that it is nothing."
She said a couple of years ago she decided she needed to find a way to use the time she was free – evenings and weekends – to make more money.
She did not want to do bar work or waitressing, she said, because the employers expect you to "be at their beck and call" even if they know you work a second job.
"My friends tell me they get ill with the shifts and get molested by customers," she said. "Why not do sex work, what is the big deal? I thought I would give it a try.
"I started off working in a parlour but now have some regulars who I visit – I get a couple a week maybe and it just takes me to where I have some money in my hands and even save a bit. It has given me more confidence in myself and with people.
"So far I haven't had any real trouble, I'm very careful. It is all worth it for the money. I have my other friends at the hospital but none of them know what I do.
They would be shocked out of their ears if they did I guess – but then again, I suppose someone else there may be doing this job too."
The ECP's new report found that while sex workers are deprived of employment rights because their job is criminalised, in practice many other women workers were too, particularly those on zero hours contracts.
Discrimination, sexual harassment, and workplace injury were found to be common across all the jobs in the study. The organisation argued endemic low pay and exploitative working conditions had been exacerbated by austerity measures implemented by the government.
Just under half the women interviewed were mothers whose wages had fallen once they had children. They reported receiving little consideration for their caring responsibilities from employers – saying the cost of childcare was prohibitively high.