Not all sex-workers are being exploited for many it is their only way out of 'desperate poverty'. Buzz reporter Lauren Joy finds out more.
The English Collective of Prostitutes says there is a growing number of women being forced into sex work during the pandemic posing risks to their health.
The organisation which began in 1975, campaigns for the decriminalisation of the sex industry to better support people in this position. A representative from the collective says the biggest reason why these women, many of whom are mothers, turn to sex work is poverty. They believe "many women are having to make this difficult choice between their own safety and being able to feed their families".
Prior to the pandemic, the collective says it's important to recognise that "there was a very hostile environment when it came to austerity and benefit cuts, and how badly universal credit was rolled out, which forced a lot of women into poverty and to do sex work. Also, the very hostile immigration environment meant a lot of sex workers were also threatened with deportation."
The pandemic has presented new dangers for people in this industry. A representative from the organisation told Buzz: "a lot of people had to choose between earning a living for themselves and their families and protecting their health.
"We see that it is the most destitute women that are still choosing to work now because most sex workers are mothers and the main reason why anybody goes into sex work is to feed their families and care for those around them."
The pandemic has also seen a large movement of sex workers going online, with the rise of platforms such as OnlyFans. In March 2020, Mashable reported that OnlyFans had 26 million registered users. However, by late August 2020, Variety reported that the site now had more than 50 million registered users, almost double the number at the start of the pandemic. The Collective says that although online work is often safer, it also poses dangers such as privacy and revenge porn.
A lot of the people that can't afford to be online are still working on the streets and these women are the most vulnerable. Parliament statistics estimate that there are around 72,800 sex workers in the UK and the Collective believes that this is likely to be a 'gross underestimation' of the whole picture. They suggest that in order to make sex work safer for women who are in vulnerable positions, more needs to be done to tackle poverty.
The English Collective of Prostitutes told Buzz: "This pandemic has made us realise very clearly that the root of why women are going into prostitution is because of poverty and that we have to fix poverty itself.
"If we add laws that further criminalise women, it doesn't reduce the number of women going into sex work, because they need the money.
"It only makes the work more dangerous for them in a hostile environment where they are more likely to be subject to violence and abuse."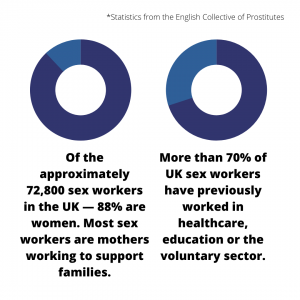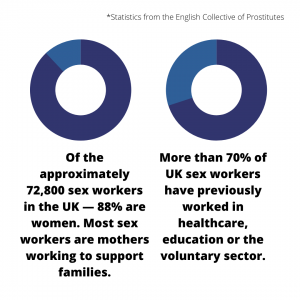 This isn't just a problem in the UK. The Collective representative explained the other international models currently being used to manage sex industries in other countries. "The Nordic model criminalises the clients and actually makes sex workers more fearful of reporting crimes against them to the police.
"If you criminalise any part of the system it will drive people further underground."
The Collective representative added: "In Amsterdam, where there is a legalised framework, it creates a two tier system where the women who have a stable immigration status for example, can register to work in the areas specifically for sex workers but there are also a lot of women who fall shy of that category, working outside the legalised system and those women are especially vulnerable."
The Collective advocates for decriminalisation, a model used in New Zealand that removes all prostitution-specific laws, although sex workers and sex work businesses must still operate within the laws of the land, as must any businesses. Studies show that women there are more forthcoming to report violence against them and that they have access to labour rights and health rights like any other worker.
The group says that a lot of the push back they have received when working to decriminalise sex work is people disagreeing with it on an 'ideological basis', believing that all sex workers are exploited. They are currently campaigning to press the government to decriminalise sex work and #MakeAllWomenSafe.Recently their petition reached 100,000 signatures on the official government website and made it into parliament but the collective says in the end it was 'cast aside'.
You can read more about their work here.
Growing numbers of women turning to sex work due to 'desperate poverty'